Email marketing allows you to target your audience directly by sending relevant content to the right people. You can send prospects relevant emails based on their interests by looking at their actions and interactions on your website, what they've clicked on and downloaded.
To ensure engagement, you have to build a healthy email list, make sure you're complying with email regulations, and segment your data to deliver the right content. As well, you can send personalised messages to prospects that show from little to a lot of interest in your school, resulting in a higher conversion rate.
Introducing an inbound email marketing strategy
First, lets recap the inbound methodology:
This is made up of four stages of inbound: attract, convert, close, and delight. Once you have attracted visitors who view your website, you'll convert them into leads by collecting their contact information. Then, this is when we see email primarily active, in the close stage. You'll use email to nurture your leads and prospects by sending them relevant messages through your email content. Email will then continue to support your inbound strategy by delighting your customers and creating long lasting relationships.
Email marketing is rooted in every part of our inbound strategy. Focusing on data and segmentation, your email marketing is fuelling your inbound strategy whilst syncing closely to your CRM, contact database, and the information on your website.
This is important for education because you can entice future prospects by creating relevant, visual content that will attract prospects to your school. By initially attracting prospects, your relationship will begin to grow. You will then be able to gather data about your prospects and tailor specific content that you know will attract and engage them through emails inviting them to open days, links to blogs and content on your website.
Therefore, by creating a great email marketing strategy, you're creating a sustainable, helpful, and human experience to develop relationships with your prospects and helping them grow.
Want to find out more about inbound in marketing? View our 'What is inbound marketing' blog.
Best Practices for Email Marketing in Education
Important best practices for building an effective inbound email marketing strategy are: personalisation, segmentation, data-driven analysis, and lead nurturing.
Personalisation
Personalisation in email marketing is about creating a contextualised and individual experience for your prospects. Email is a channel that offers so much creativity and experimentation in developing a highly personalised experience.
Behavioural email allows you to learn more about your prospects and personalise even more by connecting your emails with a contact database. Behavioural email is defined as the practice of sending automated, targeted emails to your prospects, based on the previous interactions they've had with your company across channels.
For example, if a parent was browsing the boarding page on your school website, you could send them an automated email containing your boarding prospectus and upcoming tour dates for their child. You have then engaged with a potential future prospect by building the first bridge of inviting them to your school, which hopefully begins a lasting trusting relationship.
Personalisation Tokens
A top tip for personalising your emails is to add a personal touch when addressing your prospects, this can be done via the use of personalisation tokens. This is a tool in HubSpot that automatically inserts information you have captured from a contact based on custom properties in your CRM.
For example, a personalisation token could look like this:
Dear [Parent first name] [Parent last name]
Join us on our upcoming tour day!
What to expect:
A personal tour around our school, boarding house, and social hub.

A live Q&A after the tour to answer any questions you have about our school, culture, and getting to know the alumni.

Using personalisation tokens allows you to directly address your prospects by adding a personal touch which will increase engagement with your website and emails.
Smart Content
Using HubSpot's smart content tool is also a great way to personalise marketing emails to specific prospects. If you add smart content in the body of your email, this will allow you to send the same email out to different lists of prospects, but the content itself will be personalised to that specific group of people.
For example: you could send the same email format for both the junior and senior school, however by adding smart content, you can personalise the content according to what school the child is at. Or, if a parent has a child at both schools, they will be sent both emails containing different content personalised to the school and child.
Here's an example of what smart content would look like in HubSpot, demonstrating default text and junior and senior school smart content information: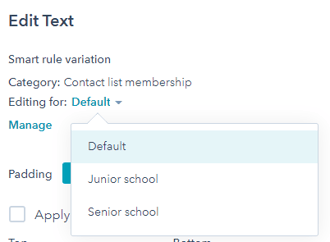 Default content: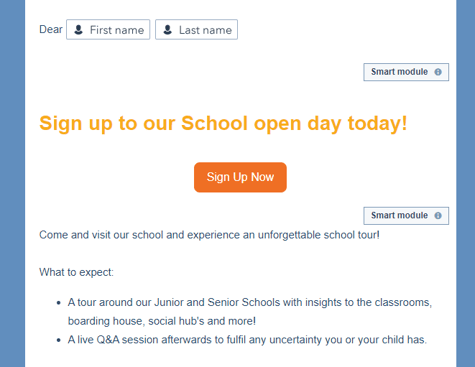 Junior School smart content: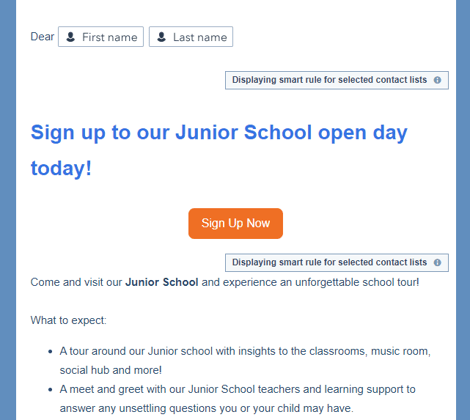 Senior School smart content: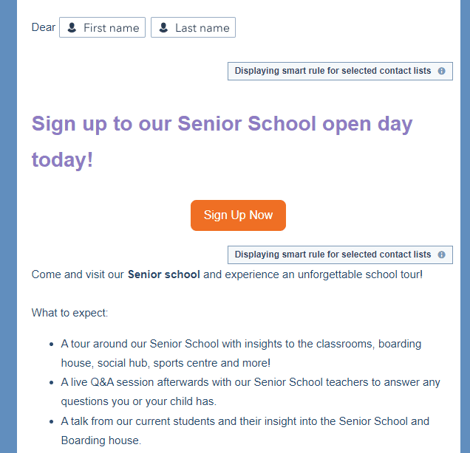 You can see what each school has to offer, such as the junior school offering a tour around music rooms, whereas the senior school offers tours around the boarding house and sports centre. Additionally, these examples also showcase the use of personalisation tokens in marketing emails which gives a personal touch.
Therefore, each of these examples of smart content have tailored information relevant to a parent whose child is applying for an open day in the junior or senior school, alongside a generic open day email that can be sent to new prospects to attract and engage them. This is why smart content in email marketing is important in education as you can engage new prospects and parents by personalising their experience with specific content.
Segmentation
Segmentation is also great for email marketing as it helps you send the right person the right message at the right time. Creating an inbound email experience and conversation means equally focusing on the context of your message and the content you deliver.
Lists
You can segment your contacts in HubSpot through the list tool. The list tool allows you to segment your prospects based on property values and other characteristics like activity, certain interests, and where they are in the buyer's journey.
For example: you could email a list of parents whose child has an interest in your school with upcoming school tour dates, or you could email your schools upcoming concert dates to a list of parents whose child has an interest in music
You can create either an active or static list:
Active lists are lists that automatically change by prospects being added or removed. For example, if a parent shows that their child is interested in sports by visiting the sports webpage, they will be added to the list 'interested in sports.'
Whereas, a static list is a snapshot in time. Prospects cannot be automatically added or removed from this list. For example, this list may contain prospects who attended an event such as an open day at your school. This list of people can then be sent an application email or live Q&A form for your school onboarding.

Therefore, segmentation is important in email marketing as it brings together two key inbound concepts: buyer personas and the buyer's journey. You can send specific emails to a list of prospects in a time efficient manner, whilst delivering the right message.
Data-driven Analysis
Analysis helps you evolve with your prospects and not be left behind with the ongoing change of how prospects are living and working. Your prospects continue to want a frictionless experience; therefore by analysing your emails consistently, you will deliver what your prospects need to continue the conversation with you.
First, track the metrics that matter, understand what those metrics indicate about the success of your emails, what is engaging vs. slowing down, and lastly apply what you've learnt to optimise and improve each email you send.
Health Tab
In HubSpot, you can review your email data through the marketing email health tab. The health tab displays the key metrics of your marketing email performance including: overall open rate, click-through rate, unsubscribe rate, hard-bounce rate and spam report rate. HubSpot will also give you recommendations on how to improve your performance and deliverability.
For example, if your click rate for joining a live Q&A was high, you would be able to conclude that this type of email content is engaging parents, compared to the click rate of an email that contains a form of Q&As to fill out. As a school and marketing department, you will be able to really refine the type of content that is engaging parents and prospects through the data health tab, and potentially attract new prospects.

By consistently analysing your emails, you can become familiar with your contacts by seeing how they are interacting with your emails. It will also help you continue to deliver value and develop relationships with your prospects.
A/B Testing
If you wanted to go that extra mile in creating a solid email marketing strategy you can use A/B testing. A/B testing is a way to see what type of email performs best with your audience. You can create two emails that perhaps have a different format, features including CTAs compared to an embedded form, different colour usage, and different content to see which performs best when analysing the results of email A compared to email B. Once you know which email received the most engagement, you can then send the winning email to the rest of your prospects and new leads.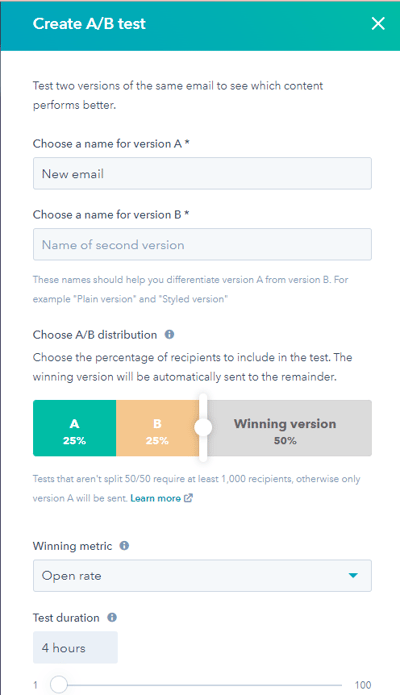 A/B testing can help with your email marketing strategy as it's a great way to drive more traffic to your website and generate more prospects from the visits you're receiving. You'll be able to see what your prospects really want to see from your marketing emails, whether this is the detailed content, the accessibility to CTAs or how on brand your email is to your school. Then, you can use this data for future emails sent out as you will know exactly what to include to increase engagement from prospects and parents.
Top tip: allow your emails to be sent out simultaneously for a set period of time to get the most accurate and reliable results.
Lead Nurturing
Lead nurturing is a marketing effort focused on engaging with your prospects in a way that encourages them to progress towards a specific action; it is ultimately a timely, efficient and targeted approach to connecting with prospects.
It is important to nurture each of your prospects in your database and CRM according to their lifecycle stage and characteristics like interests. Good nurturing allows you to maintain a good relationship with your prospects, and attract new prospects who are interested in your content and school.
Lead nurturing is delivered through marketing automation; you can develop nurturing campaigns that have relevant content based off your prospects actions and interactions.
Automation
Using email marketing automation can trigger events to happen after your prospects have taken certain actions. For example, if a prospect downloads your schools open day prospectus, you could send an automated email (with HubSpot's workflow tool) with a form attached inviting them to your upcoming open day. This means you're not only attracting new prospects, but also capturing their contact details to hold within your CRM.
Here's an example of a marketing email workflow: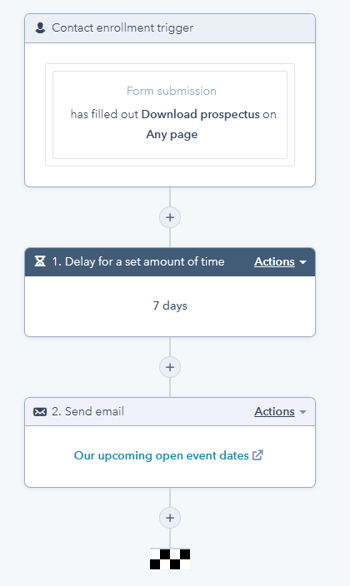 By using email automation to nurture your prospects and 'keep them warm,' you're encouraging them to show interest and interact with your school. This will then increase conversion rates of applicants and those who continue their relationship with you and your school.
Therefore, by using best practices of an inbound email marketing strategy, you can engage with your prospects in a way that creates long lasting relationships, segment your prospects to target them with specific content, keep your content personal with personalization tokens and smart content, and keep up to date with how your marketing emails are performing in the health tab.
Want to find out more about email marketing and how we could help you define an effective strategy? Book a call with us today using the button below!
Or book a demo and discover more about how the HubSpot CRM tools can transform your marketing and the way you engage with prospects.