To achieve an effective inbound marketing strategy, there are methods you can follow to help you achieve your end goal. These 3 methods include: creating your personas, understanding your buyers journey, and mapping out an effective content distribution strategy.
Inbound marketing is a business methodology that attracts customers by creating valuable content and tailoring the customers experience. Your goal is to attract and engage with new prospects, as well as delight them. Keep reading to view free resources on how to build an inbound marketing strategy.
To achieve an effective inbound marketing strategy, you can follow these 3 steps:
1) Developing your personas
2) Understanding the buyers journey
3) Building an effective content distribution strategy
Lets explore these steps...
1) Developing your personas
Personas characterise your audience and help you understand how to engage with them. Whereas, buyer personas are more generalized representations of your ideal customers; they allow us to understand who we want to relate to and build relationships with.
Personas are important because they allow you to tailor your content to meet your audiences needs and concerns. From an education point of view, buyer personas will help in the admissions process, as you can collect data from your demographics, such as age, location, and interests to gain audience/student insight.
After creating your personas, you can access HubSpot's free 'Make my Persona Tool' which allows you to create and present your persona through a document that you can showcase.
Additionally, you can also create personas in HubSpot. Creating personas in your HubSpot account allows you to target these groups and categorize your contacts all in one space. Take a look at this example of 'Hyper Heather.'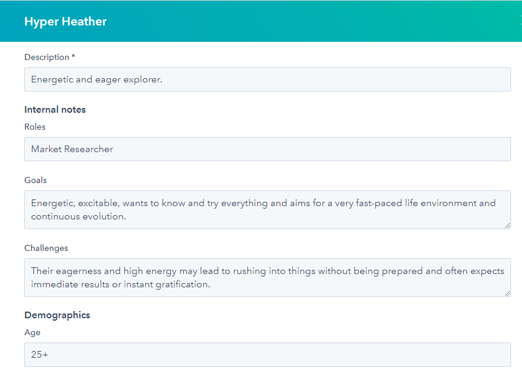 This persona profile demonstrates how you can really refine persona profiles to gain a better understanding of your target audience. Here, we have an insight into Hyper Heather's role, goals, challenges, and demographics. This information will be helpful when producing content for your prospects, as you will know what areas and needs you should target.
Understanding personas in education and marketing:
Understanding personas in education helps you meet the needs of students during the admissions stage and beyond by tailoring needs and meeting any enquiries. This also links to personas in marketing as personas allow you to filter what you know about your prospects and to tailor specific marketing approaches, such as email, to the right audience. Providing the right content and services will allow you to build a bond with your customers, creating trust and devotion to your brand.
Therefore, creating and understanding personas in both marketing and education allows you to engage with your audience in a way that suits them, alongside tailoring content that will attract and engage them.
2) Understanding the buyers journey
A buyers journey is the research process a consumer goes through leading up to a purchase. Understanding how prospects are engaging and viewing your services will help a lot when it comes to understanding the different questions your prospective students and families may have at each stage. Additionally, being able to predict these questions will enable you to strategically map out and produce content that your audience will find valuable at each stage.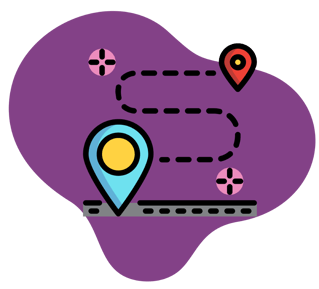 There are 3 main stages to a buyers journey: awareness, consideration, and decision.
The awareness stage occurs when a prospect experiences a problem and seeks to understand this. This may be when a prospect becomes aware of wanting to seek a good school for themselves or their child.
Then, the consideration stage begins when a prospect identifies the problem and begins to understand the different solutions. Prospects will move into the consideration stage when they conduct research on schools that align with their values and will be a good fit for their child.
Lastly, the decision stage occurs when a prospect decides on the correct solution and chooses the best vendor, and in an education setting, the best school for their child. The prospect could research the schools content, for example the schools blog content and website to decide the right fit.
It is important to note that the buyer and customer journey are not the same. The buyers journey focuses on the stages leading to the purchase, for example researching the best fitting school for their child by exploring websites, blogs, and social media. Whereas, the customers journey exceeds past the purchase decision.
Understanding your buyers journey is a crucial first step to creating engaging content, inspire new ideas, and drive an effective content strategy for your inbound marketing.
Take a look at our free content planner that will help you to start mapping out your schools content for each stage of the buyers journey,
3) Building an effective content distribution strategy
A content distribution strategy is the process of promoting and publishing your content. This can be achieved through multiple marketing channels such as: social media, email, and websites.
It is important to have an effective content distribution strategy, as it allows you to choose the right distribution channels for your organisation in regards to your goals, target audience, and results from tests; ultimately, you want to develop a strategy that will allow you to achieve your goals by prioritising the right channels.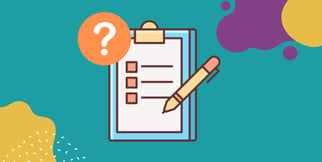 There are 3 types of distribution channels: owned, earned, and paid.
An owned channel is a platform that your company owns; this could be email, socials, and websites. These are mostly used as free channels that allow you to control your own content. In regards to education and marketing, these owned channels could showcase your school on your website, send out marketing emails to parents, and promote upcoming events through social media.
Earned channels are third party platforms that shares your content, such as brand mentions and forums; these create awareness and reach new audiences. You may want to tailor the content you share by topics and discussions to draw in prospects, for example by discussing topics in forums such as the importance of extracurricular activities, and healthy eating.
Lastly, paid channels are platforms that pay to distribute your content such as: Google ads and social media ads. Although these channels also drive new audiences to your content, they can be costly. Paid channels can potentially reach those niche audiences who may not have even thought about sending their child to your school, however by featuring your schools content through Google ads, different prospects can discover and become interested in your school.
Therefore, building effective content distribution will allow your school to engage with a wider audience by promoting content to prospects through email admissions and marketing, live Q&As, advertising blog posts on their website, or even feature paid ads through various channels.
Implementing these 3 methods is a great way to start achieving an effective inbound marketing strategy as they help you understand your audience, gain insight into your prospects journey, and reach your specific audience to achieve your goals.
---
Want to build your own custom inbound marketing campaign? Download our free checklist for schools and colleges now.