The answer to maintaining relationships and creating successful partners is to understand the use of grouping different customers. Segmentation is something that helps you effectively do this and HubSpot allows you to cater for preferred styles of segmentation for your customer's needs.
What is segmentation?
Segmentation is the process of splitting up customers into groups based on characteristics that they share, for example (personality or interests) and factors (demographics, industry and income) that they may share.
Why is Segmentation Important?
Segmentation enables you to learn more about your audience so you can tailor your messaging to their preferences and needs. For example, there is a high likelihood that you do not communicate with everyone you know in the same way. You most likely chat differently to your colleagues and with your family and friends. You also may have different expectations when it comes to the people that you come across in different groups as well. This goes the same way for your education prospects.
Benefits of segmentation include
You are able to learn more about your customers on a deeper level so you can tailor your content to their specific needs and challenges.




You are also able to create targeted campaigns and ads to resonate with and convert segment of customers. Improving customer service is also another benefit, as customer support efforts are beneficial for different groups to improve their experience.




Alongside this, there are new opportunities for products, and customer support.




Segmenting offers an easy way of managing relationships with customers. By this process, you are able to easily tailor and personalise your marketing strategy in order to bring comfort for these specific groups and sales for you. This can also help raise customer loyalty and conversions.
How do you create Segments?
The contacts that you have in your database are the core of all your different strategies. At the core of your inbound strategy are your contacts. Your contacts are the people who you expect to provide value for and in return for that value, they will help you grow your business. This brings me on to the key was of segmenting your contacts in your HubSpot database, for a more targeted sales and marketing strategy.
Top 3 HubSpot features for segmentation
1. Active and Static Lists
Static lists are a list of people who meet a certain criteria at the point of the list being created.
When you create a static list there is a choice to create a contact or company-based list, this is the same for a active lists too. You are also able to create a specific range of filters for certain people.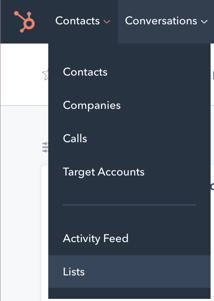 Active Lists function differently to static lists, static lists stay the same . Whereas active lists allow both contacts and companies to drop in and out of lists if certain filters changed. Ie, So for example, one of the filters you can set is views on a webpage = contacts would then be added to the list when their webpage views = and removed from the list once they view the webpage a certain amount of times.
However, HubSpot also gives you a lot of options around the filter, so you can set it to add anyone to the list who has viewed the webpage a certain times or greater, which then becomes a little more useful.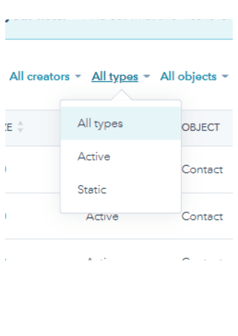 You are able to segment through an active list in HubSpot, or a static list, this can also be used in a variety of aspects of your inbound marketing efforts.
For example, when you use an active and static lists for criteria of workflows, you will have to enter particular contacts into your automation to create contextual meaningful conversation. In order to carry this out, you will have to select Automation and then Workflows.
After you create your workflow, you will be able to choose the List Membership as a criteria in order to enrol all contacts using the lists you have.
2. Buyer Personas
Buyer personas are another type of segment that are great to build upon, this is because they help you create structure for your company. All of these segments can help you create useful and personalised conversations for your specific contacts. The division of your database into smaller segments will also give your contacts more contextual information.
HubSpot have many tools that you can use for your personas.
To create a new persona:
In your HubSpot account, click the

settings

settings icon

in the main navigation bar.
In the left sidebar menu, navigate to

Properties.
In the search bar, enter

Persona. Click the

Persona

property.
In the right panel to then edit the property.
To edit a persona, to then

Edit.
To create a new persona, click

add

Add another persona.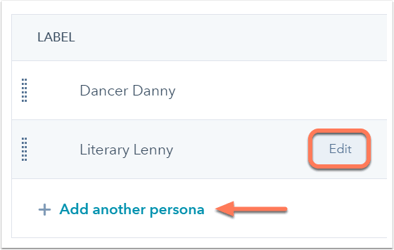 3. Segments
Developing personas allows you to create content that appeals to your target audience. It also enables you to target or personalise your marketing for different segments of your audience.
For example, instead of sending similar lead nurturing emails to everyone in your database, you can segment by buyer persona and tailor your messaging to what you know about those different personas.
In order to build segments you have to use the contacts in your database, which are the heart of all your marketing and sales strategies. The core of inbound marketing is the contacts that you have. These are real life people that you provide regular value to. your customers.
What are some segments that can help tailor your platform and your message to the right people, every time you want to interact?
Subscribers, leads and customers.
HubSpot tracks this information by lifecycle stages properties.
Lifecycle stages are designed to understand what stage of conversations you are in with your contacts and how to cater to them correctly, these stages represent a different level of engagement from each lead, prospect or customer.


Active and static lists, segments and buyer personas are a great ways from HubSpot to be implemented in order to learn about your ideal customers. All of these features allow you to make strategies that are best aimed to attracting valuable visitors in order to generate leads to education.
Want more information on segmentation, or any delivery services of how to create a better website or marketing strategy?
Book a call with us to discuss any needs or queries that you may have!