Earlier this month, HubSpot launched free CMS tools, an entry-level version of their content management system.
What is a Content Management System (CMS)?
A CMS is software that facilitates creating, managing, and modifying information on a website.
With HubSpot's CMS tools, you can take ownership of your website and build flexible, beautiful website pages with as much or as little help from developers as you need. The flexible themes and easy functionality, ensure that your brand and design stay consistent across pages.
So, what do you actually get in CMS Hub Free?
Below are just some of the most popular features of the CMS free tools.
Website pages: it's really easy to create responsive website pages with built-in assets and editors that help communicate your message and brand. (25-page limit with free tools - still plenty to work with!)
Drag-and-drop editor: Update and create pages without a developer's help or custom code. Publishing changes on the fly has never been easier.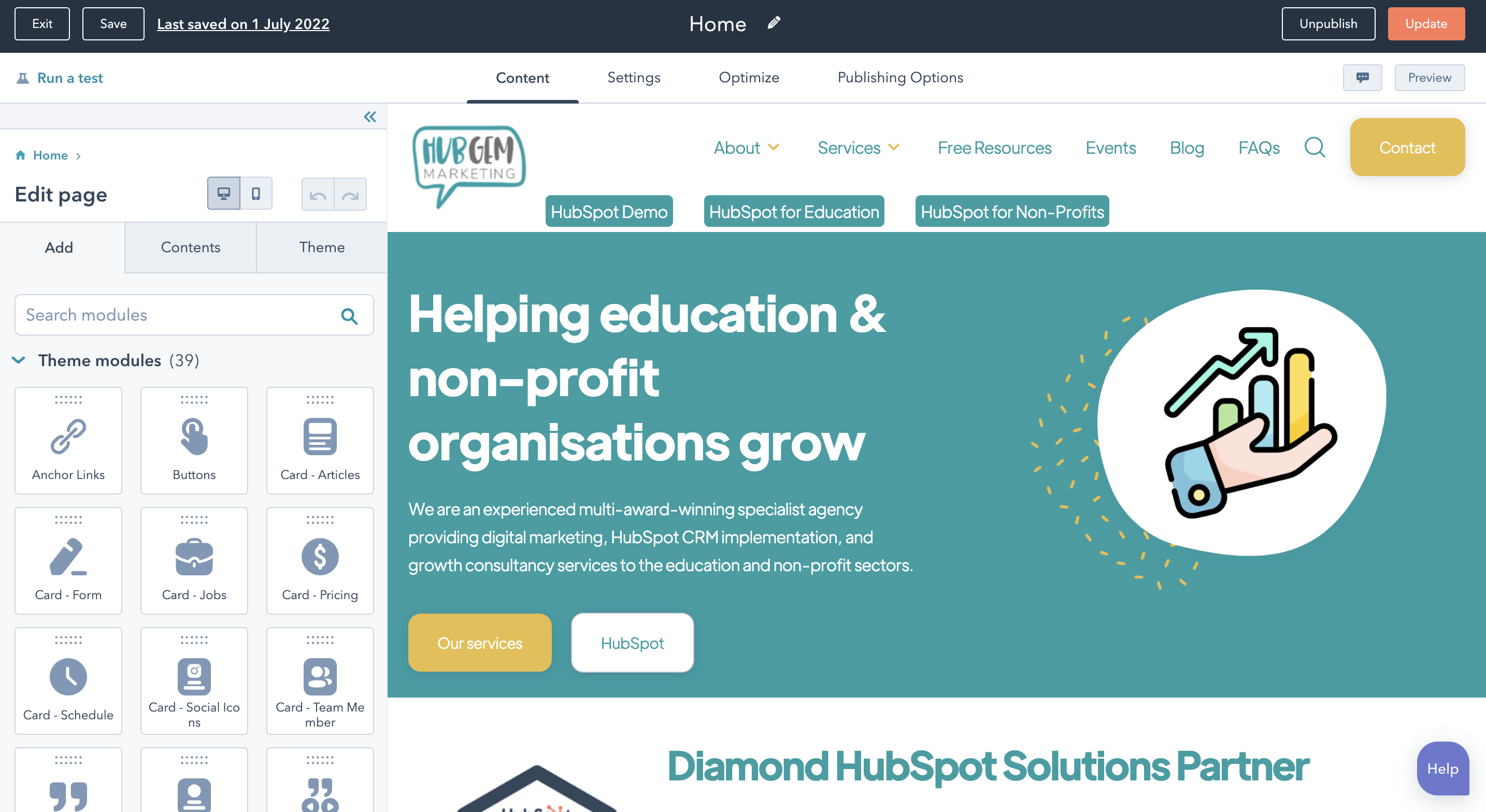 Website themes: Use one of HubSpot's pre-built website themes with the option for custom development. Build a cohesive site without worrying about mismatched designs, logos, or navigations. (Please note, not all themes are free.)
Blog: You can create blog content optimised for search engines based on topics and questions that are relevant to your organisation and audience. (1 blog / 100 blog posts / 20 authors / 50 tags are available with HubSpot's free tools.)
Basic SEO recommendations: easily see how you can improve your site and take action, all in one place with the SEO recommendations home screen.

Managed cloud hosting: CMS Hub offers premium website hosting – all for free, without extra charges based on usage, so you can focus on creating great content, whilst the infrastructure behind your website is taken care of.
CRM database: Track visitors to your site in one place and create personalised digital experiences leveraging CRM data. With the HubSpot CRM platform, your website becomes a growth engine for your business.
Connect a custom domain: Use your own domain to gain search authority. Host landing pages, blogs, and website pages on HubSpot by connecting your domain via the domain manager.
Analytics: website analytics at your fingertips to help your business leverage data for better and more agile decision-making. See statistics on how your content is performing with detailed filters like bounce rate, average time on page etc.
Now I have been over the most popular free CMS Hub features, let me give you a few reasons why these tools would deliver value to many organisations.
1. As much or as little control as you want
Building a professional website can be tricky without any technical knowledge or coding skills. But, HubSpot's free CMS tools help empower you to build a perfectly branded, optimised and comprehensive website quickly and easily with flexible themes and a simple drag-and-drop page editor. Whether you choose to create the website all by yourself or work with developers for more advanced customisation, the tools are user-friendly for everyone.
2. Everything in one place
HubSpot CMS is an all-in-one, integrated platform that allows you to execute all of the components needed to market your business effectively in one central platform. It's 2022 and we no longer need to be hopping between multiple different systems that just don't work together!

3. Personalisation
As HubSpot's CMS is integrated with its CRM, you're able to personalise the entire customer experience, from a visitor's first website visit, through every single marketing, sales and service touchpoint. So instead of sending out generic content directed at a broad audience, you can dynamically tailor content to individual visitors, making your marketing messages feel more real, human and valuable.

It is important to note that this is just an overview of HubSpot's free tools so obviously there are going to be some limitations. But, they are a great way to 'test the water' and provide an easy pathway to upgrading to the Starter CRM Suite (even more amazing tools) once you know they work for your business.
If you would like to have a chat with us about how your organisation may benefit from CMS Hub, whether it be the Free, Starter, Pro or Enterprise tools, feel free to book a call with one of our consultants using the button below.