Does your admissions process need a revamp? Marketing and Admissions departments are busy places and with so many enquiries coming in, it can be tricky to give the personal approach that your prospective students deserve. Let us share some of the benefits of implementing a new CRM system.
CRM (Customer Relationship Management) systems have been around in the business/sales world for a while but have you considered using one to streamline your admissions processes for education? And what is the best CRM for education? What is Hubspot?
As the education market continues to grow ever competitive, and students/parents have higher expectations, 2021 is a good time to ditch the spreadsheets and move towards a more collaborative approach.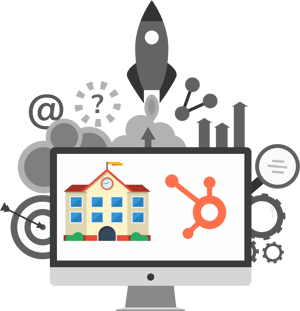 Here are some of the benefits to using a CRM system in your school, college or university:
Improved collaboration
The communication between your marketing/admissions/administrative/senior leadership teams is more important than ever. In today's instant, digital world, your prospective students are led by convenience and feeling valued.

A good CRM system will allow you to log every communication that your organisation has with an individual. When they call and speak to a receptionist, a note can be left about what was said. When they attend an Open Day, your marketing/admissions team can note down any details of conversations that took place during their visit. When your prospective family enjoy a tour of the school and meet with your Head or Principal, notes can be made on their 'profile' and very quickly your collaborative approach will lead to building a clear picture of who your prospective student is.
Tracking capabilities and email integration
Many CRM systems will integrate fully with your email provider to ensure that each email is logged within your prospective student's record. No more digging around in your sent items to see when you last contacted an enquiry that has gone quiet.

Some intelligent CRM systems, such as HubSpot, also show when an email has been opened, how many times it has been viewed and whether any links contained in the email were clicked. It is very helpful to have an awareness of engagement when trying to identify whether or not an enquiry is likely to convert or if they are no longer interested.
Better reporting
By stepping away from the huge spreadsheets of the past, reporting using a CRM system will save you valuable time and effort. Generating lists of active enquiries for the following academic year, lead scoring depending on engagement level of enquiries and identifying easily which of your marketing efforts are having the biggest impact - all really simple with a clever CRM system.

No more time spent trawling through spreadsheet to data crunch for reports to hand to your senior leaders or governors. Let technology do the work for you!
Templates and snippets to save time
Some CRM systems do much more than just maintain a contact record for your prospective students. HubSpot saves you time in lots of other ways, such as allowing you to build email templates and snippets of text that can be applied to emails in couple of clicks.

In a world where your competitors are just a Google search away, building good customer relationships is more important than ever. By using templates and snippets, you can create personalised emails without every sentence being a manual task. Drop in some personalisation tokens from the CRM (name, child's name, year group, for example), some of your frequent sentences or paragraphs as snippets, or start from a template, and save hours of your time spent writing emails!
Automate your way to enrolments
Embrace technology to streamline almost any marketing and admissions process. Using some intelligent automation (available in HubSpot Marketing Pro), you can build workflows that will do the hard work for you. Automation leads to communication that is timely, relevant and most importantly personalised.


Implementing a good CRM system has transformed education marketing and admissions departments, led to significant growth in enrolment numbers and led to many happy students. Is it time you improved your processes with technology?
See it for yourself
Get in touch to discuss your growth goals and ask any questions you may have. If you choose to implement a system like Hubspot, we can help you at every step of the way. From winning over your senior leadership team to onboarding, and content creation to automation building.
Arrange an education-specific demo using the button below.