Interviewing prospective students is a vital step in the admissions process. Whilst exam scores, essays and records of achievement are useful in providing an overview of a candidate's academic capabilities, interviews provide a better insight into a potential student's personalities, interests and goals.
But why is interviewing prospective candidates so important?
1. Establish Rapport
Interview conversations allow for rapport to be built, which in turn enables more open communication with the prospective family. Developing trust with prospective students and their families is beneficial even if the information shared isn't of value in direct relation to lead scoring the candidate. Having open conversations led by the interviewee demonstrates commitment to the success of its student body by an education establishment.
2. Understand the Needs of Prospective Students
Candidate interviews are an opportunity to ask follow-up questions prompted by specific events brought up by the candidate to allow for better understanding of the candidates experiences and expectations. Better understanding of the needs of prospective students and their families leads to more effective marketing, admissions and pastoral efforts. The knowledge gained will direct admissions teams towards related messaging to use to best nurture the lead and increase the probability of enrolment.
3. Highlight Pain Points and Gain Development Inspiration
Conversations with prospective students are a chance for both candidates and their families to express pain points, pitch ideas and inspire development of an education settings existing offer or work towards bringing something new to the table.
4. Utilise Feedback to make Informed Decisions
Considering the feedback acquired during interviews before making decisions is a successful strategy in creating a better experience overtime for both prospective and current students. Understanding what candidates think of an education setting or its academic offer allows for areas of improvement to be clearly highlighted.
5. Create a Brand Advocate
Even if the outcome of the interview is that the candidate isn't a good fit for the education setting, or that that education setting isn't a good fit for that candidate, it is still an opportunity to leave a positive, lasting impression and create a brand advocate. Elevating brand exposure amongst advocates peers through word-of-mouth marketing may generate more leads and opportunities.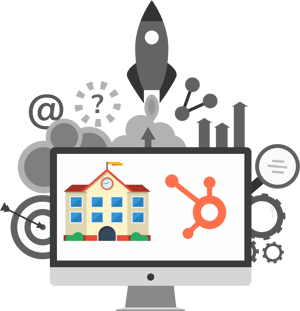 Taking your interviews online

The COVID-19 pandemic has pushed face-to-face interviews online, virtual interviews are a safe, socially distanced way to conduct candidate interviews. The admissions process of prospective interviews will stay largely the same, from invite to interview through to the preparation time given and the questions asked. But there will be some additional things to consider when going virtual.
1. Find the best place to conduct the interview
Conduct interviews in a quiet, distraction-free place and be sure to notify anyone in the vicinity of the interview so as not to be disturbed. Try to keep the setting neutral and as professional as possible to mimic the setting of an in-person interview.
2. Testing the technical set-up
Virtual interviews are dependent on a good internet connection, allowing for clear communication. Testing the connection prior to the interview a few times plus checking webcam and microphone functionality are good practice. Consider hosting a practice interview with a colleague prior to the official call. Request that candidates do the same on their end.
3. Send out interview links and material required for the meeting
Send out an interview link to the candidate alongside any interview materials they will require – details of any preparation they are required to complete or information they will need on hand for the call – via email, and request confirmation of receipt of these from the candidate.
4. Conduct the virtual interview as you would an in-person interview
Professional dress, language and body language are a sign that the interview is being taken with seriously and the candidate being respected. Looking at the camera demonstrates that the interview has the undivided attention of the interviewee.
5. Don't forget the follow-up
Don't be thrown by the change in interview format and forget to adhere to normal admission interview procedure. Follow up emails thanking the candidate for their time along with next steps or feedback requests should still be sent out, perhaps along with a nod
Platforms to Consider Hosting Online Interviews On:
Interested in using HubSpot CRM tools to send out meeting links, store candidate data and automate follow up emails?
If you choose to implement a system like Hubspot, we can help you at every step of the way. From winning over your senior leadership team to onboarding, and content creation to automation building.
Arrange an education-specific demo using the button below.