School marketing departments are busy places with a wide range of priorities which means it is really important to find the best tools to provide efficiency and impact.
Whether you are new to email marketing, or your school is using something already, this comparison aims to help you to understand the key features and differences of HubSpot and Mailchimp.
What is HubSpot?
HubSpot is a growth platform that combines marketing automation, email, landing pages and a suite of other flexible marketing tools with the power of a CRM to give you insight into how your marketing efforts are affecting your customer's experience across their entire buyer's journey. HubSpot is ranked #1 in Marketing Automation by G2, and #1 by Gartner Peer Insights.
What is Mailchimp?
Mailchimp is a marketing automation and email marketing service. Their customers leverage Mailchimp's email marketing tools to connect with their audience, and expand the tool's functionality through a number of integrations.
Email marketing features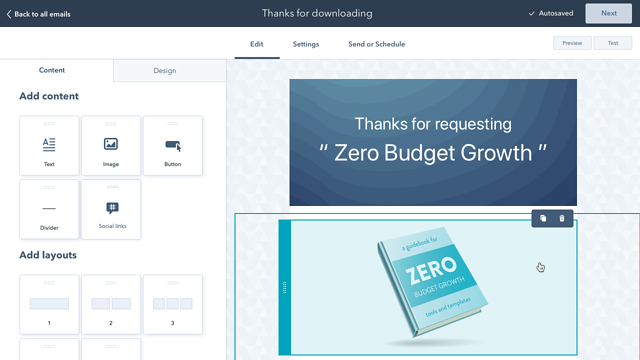 Email marketing is highly effective at converting your enquiries into enrolments, with many schools seeing excellent results. By tailoring your email content to meet your prospect's needs throughout their admissions journey, you can provide value at every opportunity.
Both HubSpot and MailChimp offer easy-to-use drag-and-drop editors that allow you to create professional looking layouts with images, buttons and text. They also both allow you to also create custom coded email templates.
Upgrading to a paid version of MailChimp will allow you to access features such as A/B testing, dynamic send times and comparative reporting - analysing data across campaigns.
HubSpot offers all of the features that Mailchimp does - and more. The real benefit of using HubSpot for your school's email marketing is that it is underpinned by a comprehensive CRM platform. Meaning that every action your prospect takes (from opening an email, to clicking a link, to visiting your site and beyond) is tracked in their contact record in your CRM. This gives you a valuable insight into the journey your customers are taking and what works, or doesn't.
HubSpot also offers some advanced automation features for your email campaign, such as if/then logic - this allows you to tailor the emails and content that your contact receives based on their previous behaviours or based on the data in your CRM.
Here's an example...
Mrs Smith has a son who is very good at sport, she is considering your school for him and has recently downloaded a prospectus but is very early in her decision making process. The emails she receives as part of your lead nurturing email marketing campaign feature sport imagery and some of your key statistics on sporting achievements of your school's pupils. This helps Mrs Smith see how well suited your school is to her son's needs and interests.
Mr Brown has a daughter who is interested in drama and wants a school that will provide lots of opportunities for her to perform. He has also recently downloaded a prospectus and is now part of the same lead nurturing email campaign as Mrs Smith. However, the emails he receives focus on drama and use imagery from recent productions. He can then see that your school is a good fit for his daughter.
And because all of the emails in the lead nurturing campaign in HubSpot are automated, you don't need to spend lots of time sending emails manually to keep your prospects engaged.
Contact management features
As your contact database grows, you will benefit from seeing the interactions that your contacts have had throughout their journey with you. Using marketing automation, you will then be able to trigger actions based on this information.
Mailchimp's Marketing CRM has an audience system that leverages segments and tags that can be used to manage your customer outreach. Segments will automatically create groups of contacts based on a single variable, while tagging your contacts lets you create manual groupings - just like you would tag a group of blog posts as "How to" articles. Mailchimp lets free users use up to five conditions to create a segment, while premium users can use advanced segmentation features that let you combine unlimited conditions to filter your audience.
HubSpot's marketing tools are built directly on top of the CRM of choice for growing companies - giving you insight into a contact's entire experience with your company. You get extremely granular control over your contacts and how you manage them. The HubSpot CRM includes more than just information on your marketing activities. For example, in addition to seeing if a contact opened your most recent marketing email, you'll be able to track how contacts are interacting with your website, how their most recent sales call went, and whether or not they have an open ticket with your support team. Create as many custom properties as you'd like within the HubSpot CRM and use these properties' values to create lists that can be used across all your marketing campaigns. You're also able to combine an unlimited amount properties to further segment your list of contacts in all HubSpot products - including the free version!
Marketing automation features
The ability to automate many of your marketing tasks is one of the most popular HubSpot features for many of the schools, colleges and universities that we work with. With small, busy teams using automation ensures that you can provide the best possible service to your prospects and customers.
Automation will help you to manage your growing database of contacts and send them personalised emails automatically - allowing you to focus on more mission critical tasks.
Mailchimp's marketing automation tool lets you trigger marketing emails based on a number of different actions your contacts take. Everything from sending abandoned cart nurturing emails to birthday emails is supported. But Mailchimp only allows you to use marketing automation to send email. You can not automate your contact management, or internal notifications through their automation tool - leaving you to look elsewhere to automate these tasks.
HubSpot's automation platform goes beyond just email. Triggering an email based on actions your contacts take is just the tip of the iceberg. HubSpot's workflows tool lets you manage your contact database, rotate leads amongst your admissions team, even create support tickets automatically. You can also go a step further and add delays and conditional logic to your automation, allowing you to customise your workflows to meet the exact needs of your team. HubSpot's automation platform is meant to assist your entire business - not just your email marketing.
In a school environment, where admissions involves a number of internal tasks and non-email marketing based communications, the ability to automate actions beyond emails is crucial and makes the difference between a functioning admissions team and an excelling admissions team.
HubSpot automation tools lead to better collaboration, admissions management and customer journey.
Social and ads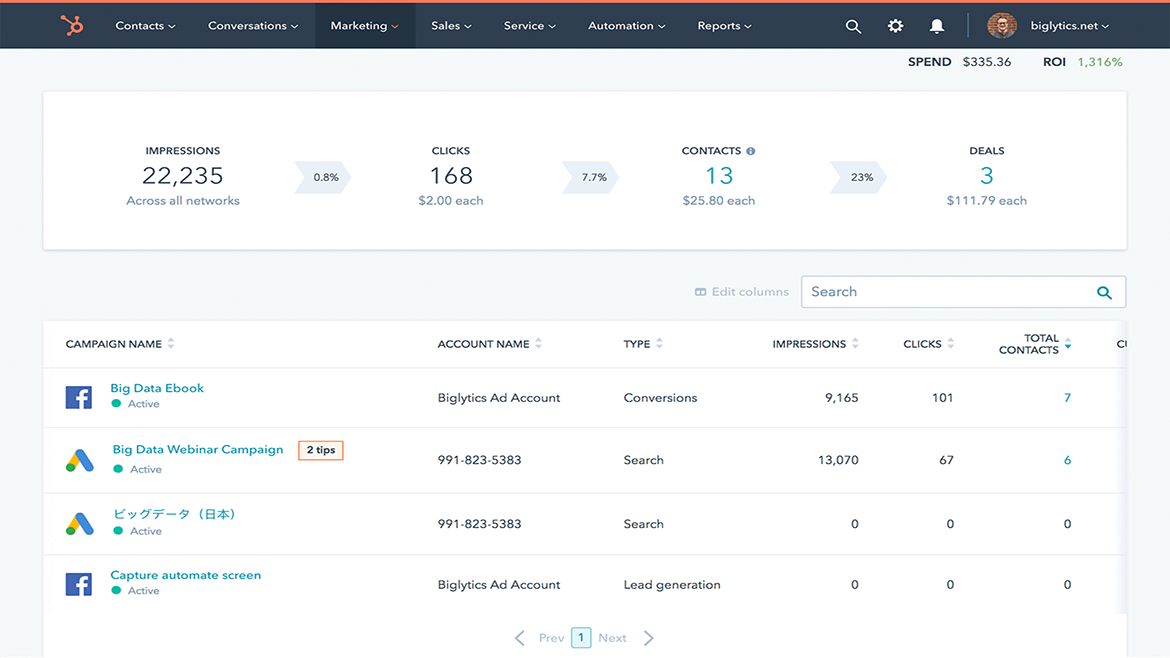 It is crucial for schools to use social tools to engage with their prospects, and using ads will also allow you to get your messages out to a wider audience and generate more enquiries. Managing this content and your ads effectively is important and the ability to manage this all in one place, saves time and helps you to achieve a better ROI on your advertising spend.
Mailchimp's social tool allows you to publish organically to Facebook and Instagram. Their ads tool lets you manage your Facebook ads, as well as Google display ads. They also include a number of reports that tie your ad spend back to revenue. A major problem for schools using Mailchimp is that for Facebook, you need to have connected an ecommerce platform to your account, such as Shopify or WooCommerce - which is not relevant for an education marketing. Targeting is limited on Mailchimp. For example, you cannot use contact lists for your Google ads to refine or exclude your audience, and you're only able to target ads to all website visitors. There is no opportunity to specify a specific page, or group of pages.
HubSpot allows you to use one tool to align your entire team around both your organic social and paid strategies. By connecting all of your social accounts across Facebook, Instagram, LinkedIn, and Twitter you can send and schedule posts across each network, and quickly report on your success on each channel.
HubSpot gives you insight into your social media performance no matter where you publish, ensuring that posts published within HubSpot or directly within the network are tracked. You can also connect your YouTube account to HubSpot to see how your audience is engaging with your video content. With the social monitoring tool, you're also able to keep tabs on specific trends and keyword phrases that are important to you and your brand, and also reply directly to comments on your social posts within HubSpot.
HubSpot's ads tool lets you easily manage your Facebook, Instagram, Google, and LinkedIn ad campaigns from one central location. After connecting your account to HubSpot, adding tracking pixels to your site is a two click process - no developer required. Any leads that are generated through a Facebook lead ad or LinkedIn lead gen form are automatically synced over into HubSpot. You can also get granular with your targeting - using any CRM data point or an extremely specific grouping of pages to reach exactly who you intend to with your ads. And because HubSpot ads are closely tied to the CRM, you can report on exactly how much revenue can be attributed to your ads at various stages in the buyer's journey.
Landing page and form features
Creating simple yet effective landing pages that match your school's brand and drive conversions is essential for growing your student numbers.
An effective landing page should make it easy for your site visitors to quickly fill out a form and learn more about your education offer. Your forms should be customisable to meet your school's (and prospect's) needs - allowing you to gather all the information you need to effectively nurture your leads.
Mailchimp offers a simple drag and drop landing page editing experience, as well as a forms solution. Their forms solution is automatically tied back to a list - which makes following up with form submitters quick and easy.
HubSpot also has a robust landing pages and forms solution. What separates HubSpot from Mailchimp is the tool's flexibility. By adding the HubSpot tracking code to your site, you can automatically bring data into HubSpot from any forms tool you use. HubSpot also understands that the goal of a form submission isn't always to convert a new lead for the first time. Progressive profiling lets you change what a visitor to your site sees if they're already a contact in your database - ensuring that every form fill yields valuable information for your business.
In conclusion...
Whilst Mailchimp offers some useful features around email marketing, school marketing departments using HubSpot comment on the impact of having all aspects of marketing and admissions in one place.
From marketing automation and email marketing, to social tools, landing pages, forms, smart content to personalise emails, a comprehensive CMS to manage your blog and web pages, advanced tracking and reporting tools, all underpinned by a central CRM platform - HubSpot is a powerful one-stop solution that can transform all of your school's marketing and admissions efforts.
To find out more about how these tools could work for your school, book a meeting to discuss your specific requirements.