Recent studies show that 58% of aspiring students use social media to look up schools they're considering. Therefore we think it is important for you to have a social media presence at each stage of the customers journey.
What are the stages of the Buyers Journey?
The buyer's journey, according to HubSpot, is "the process buyers go through to become aware of, evaluate, and purchase a new product or service".
The 3 main stages are:
Awareness- At the awareness stage the customer is aware that they are in need of a new product/service. In this case, the prospect (either the parent or the student) is aware that they are looking for a new school to attend.
Consideration- In the consideration stage the prospect is doing their research. They will be comparing and contrasting their options, reading reviews, and ranking each of their possible schools based on the information they have found.
Decision- This is where they make their decision!
Before you start
- Determine which social media platforms would be suitable for you - Instagram, Facebook, Snapchat, Twitter, YouTube or Pinterest.

- Figure out the best time and frequency to post.

- Have a content plan.

- Explore a different kind of content forms for your promotions- images, videos, stories/ live stories, long-form videos and infographics.
How to utilise social media in the awareness stage.
At this stage, the objective is to engage prospects with shareable, entertaining and educational content. Social media is an amazing tool to aid in brand awareness and it helps to connect you to relevant users that have not even heard of you yet.
Firstly, make it easy for parents/future pupils to find you on social media. You can do this by including links to your social media page on your website or by having a social media directory. Many parents and prospective students will check a school's website first if they're interested in the school. Therefore, offering them more ways to follow you creates a different insight into what you have to offer and allows them to see the school in a different light.
Also, before you start you need to know your audience. What is the type of student you are trying to attract? Think about demographics! These are called 'Buyer Personas' and are very important when targeting ad content. For example if your school is heavily involved in sports you want to be targeting users with these specific interests and designing your content around their specific interests; this is so that you can provide content with as much value as possible.
When looking to attract new students and parents to your school, you want to share photos and details about upcoming events around campus; to showcase what is to be expected at your school. Highlighting these events and extracurriculars can make your school stand out from the rest, and using social media to do so makes it seem a little more informal and relaxed.
Below is an example from a school we work with at HubGem, Redmaids' High School, illustrating the use of a beautiful campus/school building picture as social media content to advertise and open event.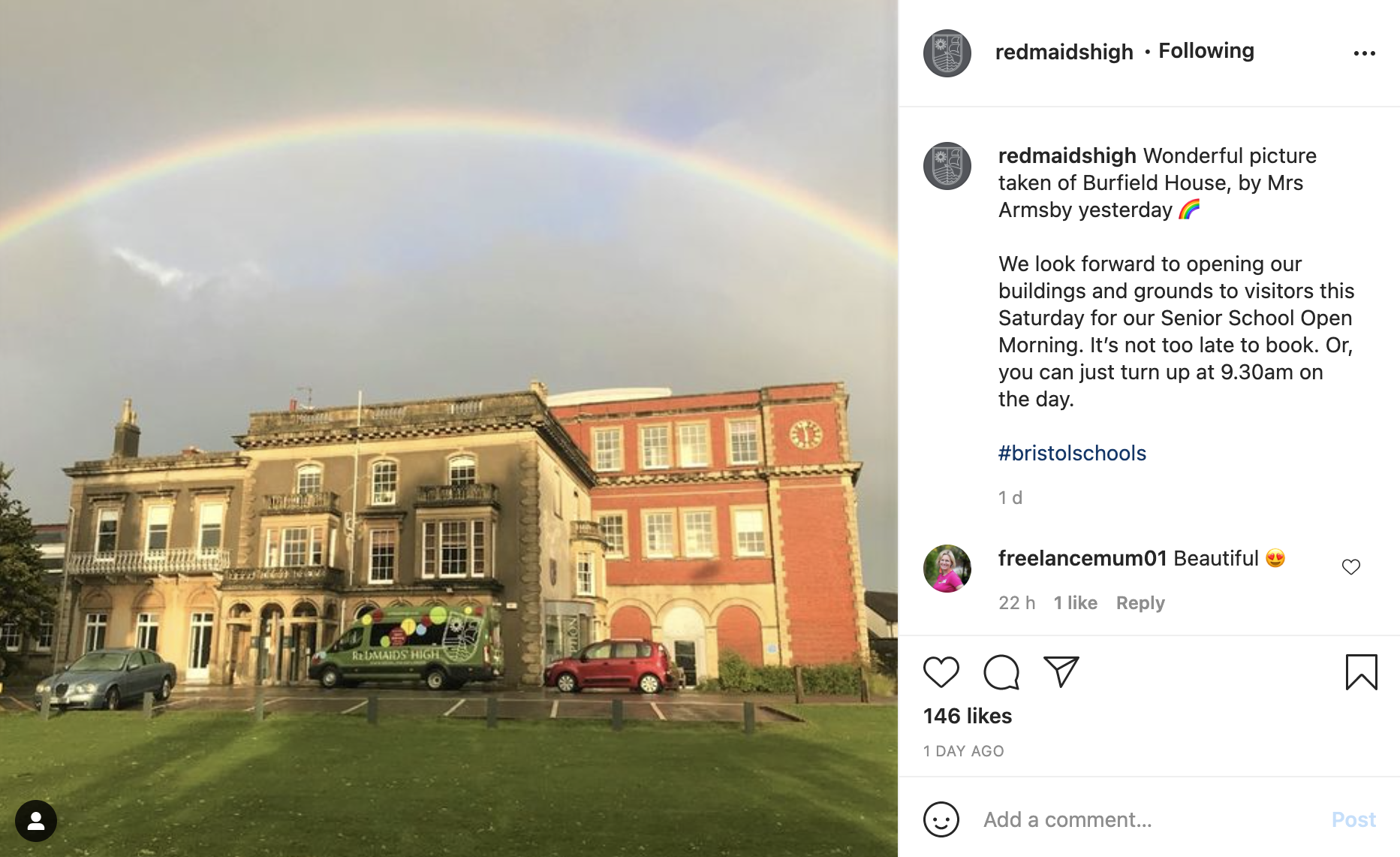 How to utilise social media in the consideration stage.
More than ever before consumers are doing their research online; and this mostly takes place on social media. Social media users often say they are more likely to trust other social media users when looking for reviews. Perhaps reaching out to any school alumni, or present school goers, and asking them to post about their experience with you would be very useful. This user-generated content is seen to be more reliable and trustworthy.
Really make your potential students, and parents of students, aware of the services you have to offer before they have even joined the school. This is open day events, taster days or guided campus tours. Posting this on social media with a booking enquiries link will make it easy for prospective students to sign up; and will also help you capture information about potential students.
An idea could be to create and interest based FaceBook group. In the group you can share information specifically about what the school has to offer and also interact with prospective students and parents by answering any questions they may have. You could also have alumni in this group sharing their experiences. This makes the process feel more personal for the students.
Once again, posting photos and videos on social media of the campus, and showcasing what events might be happening in the future are very important in this stage.
When it comes to Universities you might have a current or previous student with a huge following on social media. Using a social media influencer like this is one way of engaging future students. Social media users trust each other! But you can't just use any influencer to promote your school, they have to be authentic and reliable, otherwise they become untrustworthy and so do you.
How to utilise social media in the decision stage.
At this point you are much more aware of the potential students you could have, and who has and hasn't been viewing and interacting with you social media content. Keeping your school in the front of the prospects mind is key. So continuing to post intriguing photos and videos of the school campus is important.
Using the Facebook group you now have the opportunity to direct message members. You can send the a link to the application form and write a personal message about why they should apply.
In Summary
The usage of social media is always growing and will continue to increase, thats why it is important to be present on social media at each stage of the buyers journey, regardless of what product or service you sell.
Utilising, video and photo content can be extremely engaging and will definitely help you show off to prospective parents and pupils what you have to offer.
Take advantage of the tools provided on your social media accounts, such as stories, direct messages and group pages.
Free Resources
If this blog has inspired you to start mapping your buyers journey, click the 'download worksheets' button below, to access our FREE templates. 👇👇👇
If you also would like some FREE content mapping resources to help you start planning your social media content, click the 'Download Content Planner' button below. 👇👇👇