Technology is taking over the marketing sector. Whilst designed to lessen internal workloads and positively boost user-experiences, disjointed tools can do the exact opposite. And that's why HubSpot, the only marketing automation platform and CRM all in one place, is proving a popular choice for marketers.
HubSpot has a range of marketing tools within its CRM that are super easy to use and can help provide a really personalised approach to fit in with your inbound marketing strategies and attract and delight your prospective students and parents.
HubSpot is the only marketing automation platform as well as a CRM, meaning that not only are all of your marketing tools in one place, but all of your prospective students data is too.
In this blog I am going to run through each of the different marketing tools available in HubSpot and how to use them; and you will see they really are simple to use.
The HubSpot marketing tools are:

Ads
If you're running campaigns on Facebook, Google, and/or LinkedIn, you can centralise this in HubSpot. There isn't as much functionality from inside HubSpot, but you can view the analytics of your ads all in one place.
For schools and collages, being able to see which ads converted into the most enrolments and on which platforms is very useful.
The image below shows an example of the data captured, from ads in HubSpot.
Email
HubSpot has many email templates to choose from that are goal specific and have been proven to convert. However, you can design your own templates to fit your specific goals for the emails, that are on brand. The marketing emails function allows you to customise your emails with branded colours and logos, and uses an easy drag and drop editor for you to place text, images and CTA's wherever you want them.
You can use email subscriber lifecycle stages and lists to collate email recipients, meaning you don't have to manually go through and choose who to send the email to.

For example..

Create an active list of all contacts who has registered for an upcoming open event

Use automation to send a confirmation email upon event registration, to say you are look forward to seeing them

Schedule an email to send a reminder the day before, letting registrants know what's in store on the day of the open event.

Schedule a follow-up email with a link to a survey post-event, to gather attendee feedback





Also, because email management is built within the HubSpot CRM platform, your emails will always be powered effortlessly by your customer data. You will never again you have to ask dev or ops to pull the most up to date contact lists or subscriber preferences.
The marketing email too also as an analytics function, which shows you all sorts of information about the success of your emails, from the parts of your email had the most interaction and others aspects that didn't do as well. The health page also lets you monitor how well your emails are doing in terms of bounce rates, and basically anything that could be damaging the 'health' of your emails.
Finally, use A/B testing to dive even deeper into your data to see who's engaging with each email and when and the most popular content. You can also send out test emails, to your colleagues for example, as a method of proofing and making sure everything is working before you send out the real one.
Oh and one more thing... you can use personalisation tokens and smart content to really maximise on personalisation and show even more valuable content to your prospects. For example if you have an image in your email, you can use smart content to show a sporty image to prospects who have stated they are interested in sport and a music based image to those who said they are interested in music.
Landing pages
Once again, you can quickly design and launch professional-looking landing pages without help from developers or IT.
Choose from HubSpot's built-in library of mobile-optimised templates or build your pages from the ground up. Similar to marketing emails, they use a drag-and-drop page editor, enabling you to customising your page's content, from embedding forms, choosing your desired layout and branding and adding in images, videos and text wherever you like.

You can also preview how your page will look on all different devices, mobile phone, tablets and PC's before publishing.
And obviously, there are a whole bunch of analytics features that go with it. Identify your best converting landing pages in a centralised dashboard, as well as getting customised SEO suggestions to help you optimise your landing pages for search.
Run tests on every element, including headlines, images, CTAs, forms to help drive more leads, faster than ever.
Finally, landing pages are really good for hosting additional information that is not on your website, especially time-framed information, like any events you may be hosting, including open days/evenings. Schools also use landing pages for Knowledge bases
Here are some examples from schools we have worked with:

https://faq.leweston.co.uk/knowledge
https://enquire.ncl.ac.uk/en
https://faq.myonlineschooling.co.uk

Social
Link all your social media accounts to HubSpot to allow you to schedule and post your social content straight from the CRM.
You can schedule your content months in advance on a calendar view, compare your social posts, and check the analytics of your posts from engagement, clicks, interactions and sessions on your social posts, to help report on performance.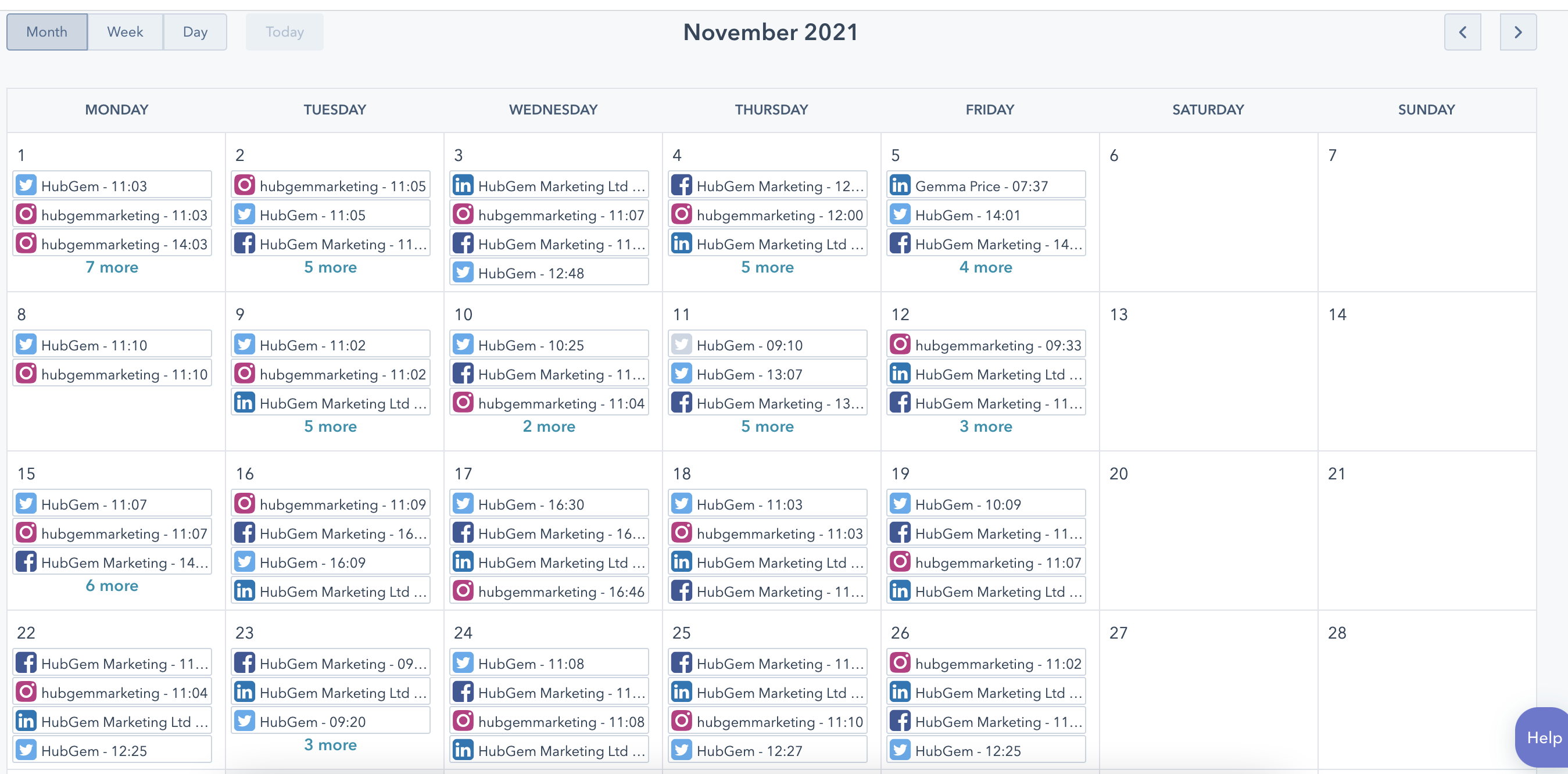 Reporting on social media is extra special, because HubSpot integrates with your CRM, you can see the visits, leads, and customers social media is generating for your company. On top of this social interactions in HubSpot get linked to real people in your database, so you gain a deeper understanding of how that prospect is interacting with the content you put out and prioritise conversations.
Finally, manage your social media with ease by associating social posts with relevant marketing campaigns. The campaigns tool in HubSpot allows you to tag related marketing assets and content, so you can easily measure the effectiveness of your collective marketing efforts and see how your social posts impact your larger marketing strategy.

For example... all your marketing assets focused on promoting an open day will have their own campaign.
Website pages
You can also centralise your website on HubSpot by using their content management system (CMS) . Without sounding too repetitive, designing and building your website pages are very similar to landing pages. It uses a drag-and-drop editor and enables you to design your pages for your desired goals. And once again, HubSpot has a whole host of templates to chose from, that have been made with specific themes in mind.
Even if you keep your website hosted on another CMS, you can still create blogs and landing pages from HubSpot to sit on a subdomain.
Once again, the website feature gives you SEO recommendations, enables you to track performance through contact attribution reporting and has adaptive testing so that you can make sure your webpage is perfect before setting it live.
Blog
Draft your blog content directly within HubSpot's blog editor. Quickly insert images, format headers, and add links with the on-page editor. Insert relevant, personalised calls-to-action, like 'download our prospectus', to help convert blog visitors into subscribers and potential students.

Use the composer section to streamline your editing process by adding comments that tag team members in to proof the content and sharing feedback. And obviously, you can preview how your post will look on any device.

Continue to generate traffic and conversions long after your blog was first published with the use of on-page SEO recommendations so you can outrank your competitors for the keywords that matter.

You can have multiple blogs that focus on a specific audience, for example...

A blog that you have all your boarding students and their parents subscribe to as a central base for sharing information and resources.

Or if you are a through school you can have blogs for prep, senior and sixth form.

Having niche blogs that go out to specific audiences means that there will be much better engagement.

P.S. Once you publish your blog post you can immediately create a social media post to share it with your followers.

Oh and do I even need to mention that you can of course use the analyse feature to gather data on the performance of each individual blog post.
SEO
With HubSpot's SEO marketing software, you can access actionable, real time, recommendations on how to optimise all your marketing assets, especially your web pages, for SEO. Your recommendations are ranked in priority order to show which optimisations will have the most impact on your performance in search and you can also see exactly which pages need to be updated, what actions should be taken. HubSpot really helps makes SEO easy and removes all the hard work of trying to figure out which key words are bringing you the most visitors.
Furthermore, you can get data straight from Google that can be used to inform your SEO strategy when you integrate Google Search Console with HubSpot. Metrics like total impressions, average position, and clickthrough rate are just some of the amazing insights you will receive.
Marketing files
Store all your marketing assets- graphics, ebooks, videos, images etc- in one place, ready for you to access and use at any time.
For schools, collages and universities the marketing files are particularly useful to hold images- especially when it comes to GDPR compliance and parent permissions to use photos of pupils on your website of social media pages.
The video above shows how you can organise your marketing files library:
By segmenting them into each section of your school (if needed) or different school sites, depending on your organisation

Then have a folder for images

locate images related to each subject, but calling them their subject name- art.

Makes images easy to find for your marketing
Forms
There are multiple different types of forms that you can create, from standalone, to embedded and pop ups, depending on what type of form you are making. For example, pop up forms may be really good for directing visitors on your website to an open day form or any current form at the time like admissions/ registration forms.
HubSpot forms are once again super easy to create, they use the drag and drop editor (which I'm sure you're familiar with by now) and allow you to choose multiple types of form field's- up to 1,000 form fields using a dozen different field types actually- from drop down select to multiple choice and single line text, depending on what the answer requires. This also includes using logic to show different questions depending on certain answers given.
You can easily add your form onto your website or use a standalone form to share quickly and, everyone who fills out your form will be automatically routed into HubSpot CRM.
Common forms we see for schools, collages and universities are:

- Download a prospectus
- Contact us
- Sign up to an open event
- Book a personal tour
- Application form
And they can all me made and hosted on HubSpot, meaning that all information collected through the forms will be automatically inputed into your CRM, so it is easy to find and see.
CTA's
And last, but definitely not least, CTA's.
Use CTA's on landing pages, web pages, blog pages and within emails to direct your visitors and prospects to a desired pages.
Like the one below, you can design your CTA buttons with your brand colours and choose specific text for your goals. You can also use Images and CTA's.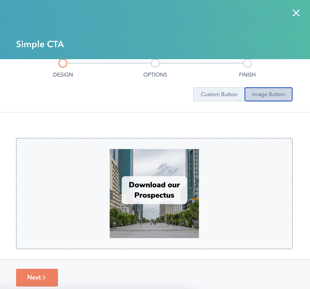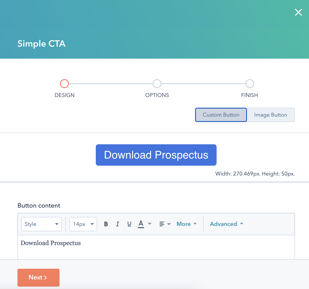 Want to find out more about the ways you can use the marketing software hub?
We host twice monthly CRM demos, that give insights into how you can use HubSpot within your school, collage or university.
👇 Book a demo by clicking the button below👇